About Liza Riguerra
Have you ever walked into a room that took your breath away? Ever wished your home could look like the ones in magazines?
Me, too. That's why, after years working in high technology, I left to become a designer. So I could design a beautiful home for myself. I love that feeling of coming home to a beautiful place, and I want you to experience that, too.

A technology professional turned interior designer
Full disclosure: I love science. I studied engineering in college and worked in high technology for many years. Over the course of my career, I designed software. Streamlined business processes. Managed many projects, people and operations. But mostly, I engaged directly with clients as their partner, listening and providing them with the solutions that best fit their needs. I bring this same approach to every design project— creating a space where we can have creative, productive conversations about the design styles that matter most to you.

Award-winning customer service
To me excellent customer service means this: taking the time to listen to you and understand what you want for your home. Not telling you what to like, but helping you to discover what you love. Not telling you how to spend, but providing you the information you need to make an informed decision. And ultimately, delivering you a thoughtful design that I hope you'll fall in love with. I have also won a Northern California chapter of the National Kitchen+Bath Association (NKBA) award for kitchen design.

And I'm meticulous about design
I'm a left-brained right-brainer. An analytical creative. Every element I incorporate into a design has a distinct rationale. Not just the color on the wall but how that particular shade of blue-gray provides just the right contrast to the honey undertones of the floor. Not just the rug, but how its nubby texture softens the otherwise sleek room. Not just the accent chair, but how its delicate curve balances the lines of the objects around it. This is how I think and how I work— to give you a well-thought-out design and a home that I hope will take your breath away.

" Liza comes from a world that I do [technology]. She's talented and knows her stuff. Her options were always well-thought-out, and presented in an intelligent way.
I can't imagine working with anyone else.  "

— Amy K., Chief Customer Officer, San Francisco
Our Team
CHRISTINE is our Senior Designer and Project Manager and a Bay Area native. With over 20 years in the design industry, she specializes in luxury residential design and has worked on some of the finest classical and modern design homes in the Bay Area. An experienced project and construction manager, she leads our new-construction and full-home remodel design projects. She specializes in and enjoys architectural design and fine custom detailing. Like Liza, she's a "left-brained right-brainer". She has a B.A. in Applied Math from UC Berkeley, and worked as a software engineer in high technology for 9 years before pursuing her true calling in architectural and interior design.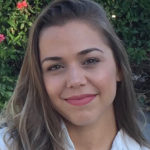 MAYARA is our talented Associate Designer. She designs for all aspects of the project, including concept development, space planning, 3D visualization, and materials and furnishings selection. Before moving to the United States, she designed for resort, retail and high-end residential projects as a licensed architect in Brazil. She holds a Bachelor of Architecture from Universidade Regional de Blumenau and a Certificate of Interior Design and Interior Architecture from UC Berkeley Extension. Mayara is also an expert at Lagree, an intense workout the team jokingly refers to as "Pilates on steroids".
KELLY is our Business Development Manager. She is responsible for developing our business partnerships. Before joining Riguerra Design, Kelly spent 15 years in philanthropy, researching public policy issues and evaluating grants designed to improve health. She has a B.A. from Villanova University and a Master of Public Policy from Georgetown. In her "spare time," Kelly teaches art at Nesbit Elementary and Arbor Bay School and is a board member at Nuestra Casa, a local nonprofit dedicated to the emerging Latino population in East Palo Alto and its surrounding communities. She jokes that her favorite hobbies are laundry and food shopping, but she really does love to read.
" We can't say enough about Liza. Renovation is daunting. But she broke down the process into manageable steps. She understood our budget, educated us on different materials and showed us options that matched our tastes and budget.
She is a total professional. "
— Monali N., Palo Alto